Candles, once are reserved for power cuts. After the failure of electricity supply, the city is in chaos. People grope about in flickering candlelight, which could go off any second; dark corridors make people scared, without sense of security.
Then people need a light which is still on when meets power cut, an emergency light. An emergency light is a battery-backed lighting device that switches on automatically when a building experiences a power outage. By the nature of the device, an emergency light is designed to come on when the power goes out. Every model, therefore, requires some sort of a battery or generator system that could provide electricity to the lights during a blackout.
We want to introduced a new product this week which meets a growing need —UPSHINE design led emergency ceiling light. As LED emergency light becomes more and more popular, we want to use it everywhere, more convenient and save more energy.
Emergency Function:
Smart IC control, self-test starts after the luminary is connected to mains for continued 24 hours.
◆ Emergency function switches automatically between power cut and power restoration.
◆ Li battery, high efficiency
◆ Battery duration: 3 hours@4W
◆ Charge period: 24 hours
Application Areas
Emergency lighting is designed to provide sufficient illumination in the event of a mains power failure. Modern emergency lighting is installed in virtually every commercial and high occupancy residential building. Most building codes require that they be installed in older buildings as well. People are no longer afraid of power cuts, an emergency light can bring light where there is darkness.
The guide below provides examples of where to locate your emergency lighting according to different areas of a premises. As well as highlighting the fire exits of a building, correctly located emergency lighting provides essential illumination throughout the escape route including steps and stairways, changes in direction and fire and first aid points.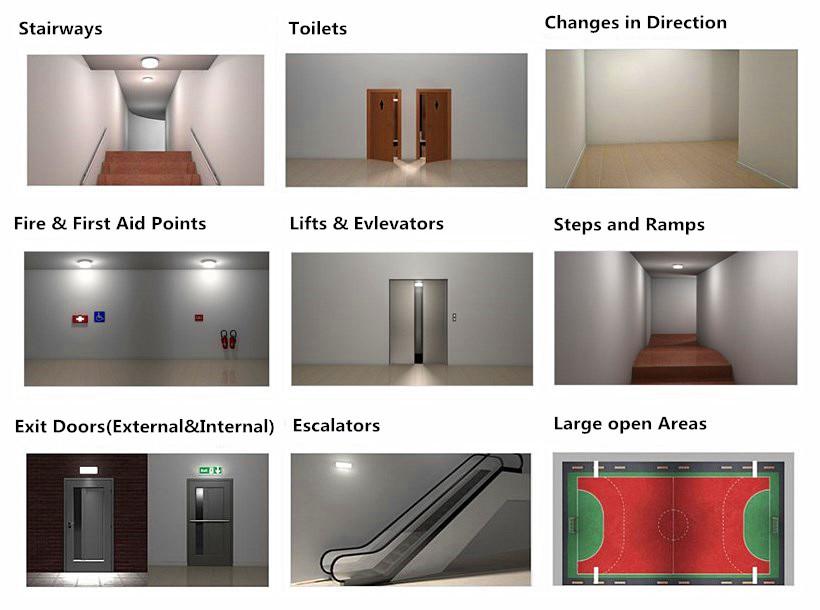 Welcome to discuss more with us about led emergency light, any further interest, please write to me crystal@upshine.com.
Crystal Lei
Email: crystal@upshine.com
Skype: upshine.crystal
Whatapp: +86-15971727258