With the Led technology developed, Led Panel light, which is one of most popular led lamps. it appeals many attention, with contious modification of its design, light efficient, CRI, UGR AND smart function. so what's the components of LED Panel Lights?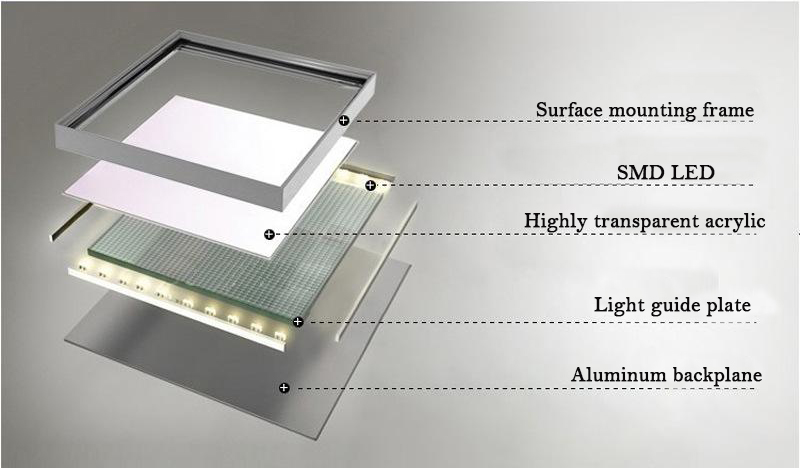 1.Surface mounting frame
Surface Mounted Frame is always made of Aluminum Material, because it is not only expressing cool apperance, but also using the advantage of good heatsink. Customers can choose theirself love design.
2.SMD Led
Now many manufacturers adopts SMD3528 as Panel light source. this item is energy efficiency and cost-saving. at the same time, high lumen is the important factors. surrly as a leading manufacturer, our upshine would according real demand to high quality product.
3.Highly transparent acrylic panel
Choosing LED panel lamp diffusion plate is very important. Effective light transmittance is our love. now we usually use Highly transparent acrylic panel. it is best for Diffusion plate. But Anti-aging ability is poor.
4.Light Guide Plate
In the whole components of panel light, the Light Guide Plate play a main role. Best Light Guide Plate should make the whole panel light to achieve a uniform effect. moreover the excellent design would develop the product function.
5.Aluminum backplane
The backplane is mainly used to seal the lamp body, it features with metal aluminum material. it can make apperance more cool, Simultaneously radiating function is strong.
Upshine led panel family supply different solution for project and distribution. such as regular LED panel with high lumen and low UGR, CCT changing Led panel. Panel light must be one of the most popular lights in the future market for it's simple and high quality.