In this colorful world, people always try to enjoy more different colors for anything. Clothes, shoes, hair… and light!
When tungsten filament lamp times, people can only enjoy the color from 2760K-2900K. When incandescent lamp times, 2500K warm white is general existing. When fluorescent lamp times, people begin to enjoy 3000K.
Till now, led lighting can provide more color options. From 2500K to 6000K and RGBW. You can even own one led lamp with several and even thousands of color options!
There are 3 ways to realize it.
1. Wall Switch on/off control from night light, to 3000K, 4000K, and 6000K
It's can also be dimmable from 10-100% after selecting one color.

This is very convenient and multi-optional for residential and commercial lighting, like house, hotel, supermarket, shops, restaurant, etc.
2. A lot of people just want one color, distributors need to store huge lamps with different colors.
Till this item appear with color selection button!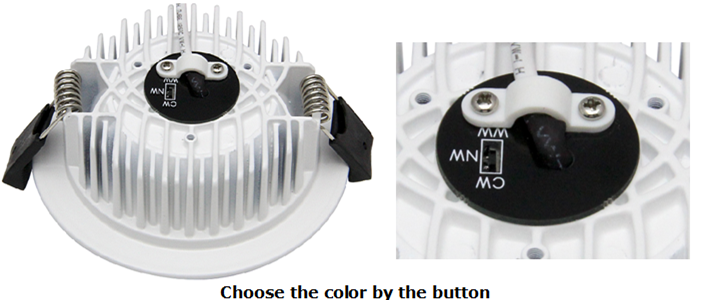 It can help electronic or lighting distributors reduce the stock of downlight, ceiling light, etc.
It means: 1000pcs color selection button item = 1000pcs 3000K / 1000pcs 4000K / 1000pcs 6000K
3. Nowadays, people like to control TV by remote or cellphone to get more new taste of life.
Even the light!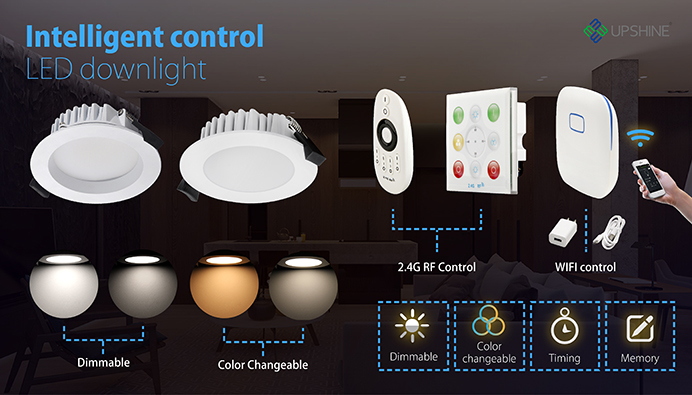 Multi-functions make life more convenient and enjoyable!
– You can control the light by remote for color changeable from 2700K -6000K gradually. and dimmable from 10-100%.
– You can also use your cellphone to adjust the light color, brightness to make different atmosphere.
– Forgot to off the light when out? Don't worry, the timing function on cellphone can help you.
– Smart memory function help you to remember the last color, brightness.
All these, you only need a wifi box, a cellphone linked with wifi!
If you worry your grandmother hard to handle the wifi cellphone, you'd better add a remote or simple wall touching panel. This technology will be widely used for downlight, panels, track light, ceiling light, indoor and outdoor lighting.
We expect the people enjoy the life more with such smart light!
Let's enjoy the colors!
Welcome to discuss more with us about the light colors, please write to me sharon@upshine.com
Sharon Liu
Email: sharon@upshine.com
Skype: upshine.sharon
Whatapp: 86-15820457761