Hey friends. Are you still face the problem for panel light with lower lumen and high UGR? Coming in please. UPSHINE will provide you excellent lighting solutions.
UPSHINE UGR<19 LED panel, a new tendency for high end market, adopts anti-glare diffuser, reduces glare by structural improvement. It is unique designed with uniform light and high lumen output. Dimmable as an alternative choice if you need.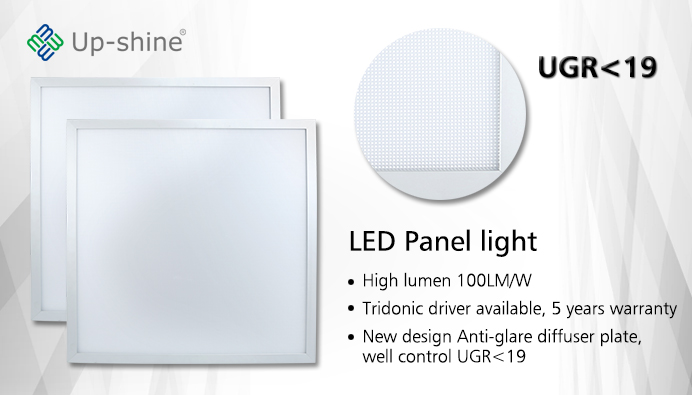 What is UGR?
1. The Unified Glare Rating (UGR) is a measure of the glare in a given environment.
2. Glare is caused by a significant ratio of luminance between the task (which is being looked at)and the glare source.
3. With a lower value of UGR, it will reduce discomfort glare.
What are people feeling when lamp UGR<19?

100LM/W? How to do?
1. 60-65lm per LED Chip, 0.5W
2. 92% Driver Efficiency
3. Anti-glare Diffuser, 90% Light transmittance
How i believe in you what you said?
According to Europe level 4H and 8H data must be less than 19 and you can contact me to check the IES file.
Do you have any certification?
Sure. UGR<19 panel light with CE ROHS TUV and SAA certification.
Which area can i used for?
Office & school lighting: office room, meeting room, class room etc.
Commercial lighting: shopping mall, super market, retailer shops etc.
Other situations: hospital, laboratory, dust-free workshop etc.
Believe that you have a good impressive of our panel light. Is anything do you want to discuss with us? Please contact us for free.
Kelly Zheng
Email: kelly@upshine-lighting.com kelly@upshine.com